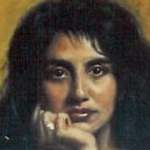 NOT THE TURNER PRIZE 2004 sponsored by The Daily Mail

This painting was selected from around 10,000 as one of the final 400 to appear in the NOT the Turner Prize show at the Mall Galleries in June 2004. The Daily Mail launched this competition in 2003 to celebrate traditional, figurative British art.
Distinguished art critic, Brian Sewell, commenting on the judging this year, wrote: "As an observer, not a judge, I feel compelled to say that the system for finding the prizewinners of the NOT the Turner Prize is as near perfection as can be. The judges came to the task with a great weight of experience, each with such different preferences and knowledge that no pictureo of merit could be overlooked.
"This is painting of a kind sidelined and belittled by those who promote what is now mainstream modern British Art... Long may the NOT The Turner Prize continue to give it annual exposure."